FRONTLINE Spot On for Cats and Dogs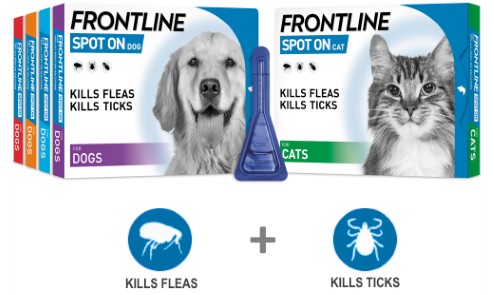 FRONTLINE Spot On is the original flea and tick spot-on formula from FRONTLINE, first used by vets, now available without a prescription. Once applied, the treatment will protect pets from fleas, ticks and lice - use monthly all year round.
• Kills fleas on your pet within 24 hours
• Kills ticks within 48 hours, helping reduce the risk
of tick-borne diseases
• Kills lice


Displaying 1 to 6 (of 6 products)
FRONTLINE Spot On
FRONTLINE Spot On is a topical application for the treatment and prevention of fleas and ticks. It contains the active ingredient Fipronil, which works to over-stimulate the nervous system of the parasite and kill 98-100% of adult fleas within 24 hours; remaining effective for up to 5 weeks in cats and 8 weeks in dogs. Ticks and Biting Lice will also be killed within 48 hours, and remain effective for up to 2 weeks.
FRONTLINE Spot On quickly dissolves into the natural oils of your pet's skin and coat, dispersing over the entire body surface within 48 hours. The parasites are killed through this contact with the skin and coat, and therefore do not need to bite to be killed.
Learn More About FRONTLINE Spot On
How To Apply FRONTLINE Spot On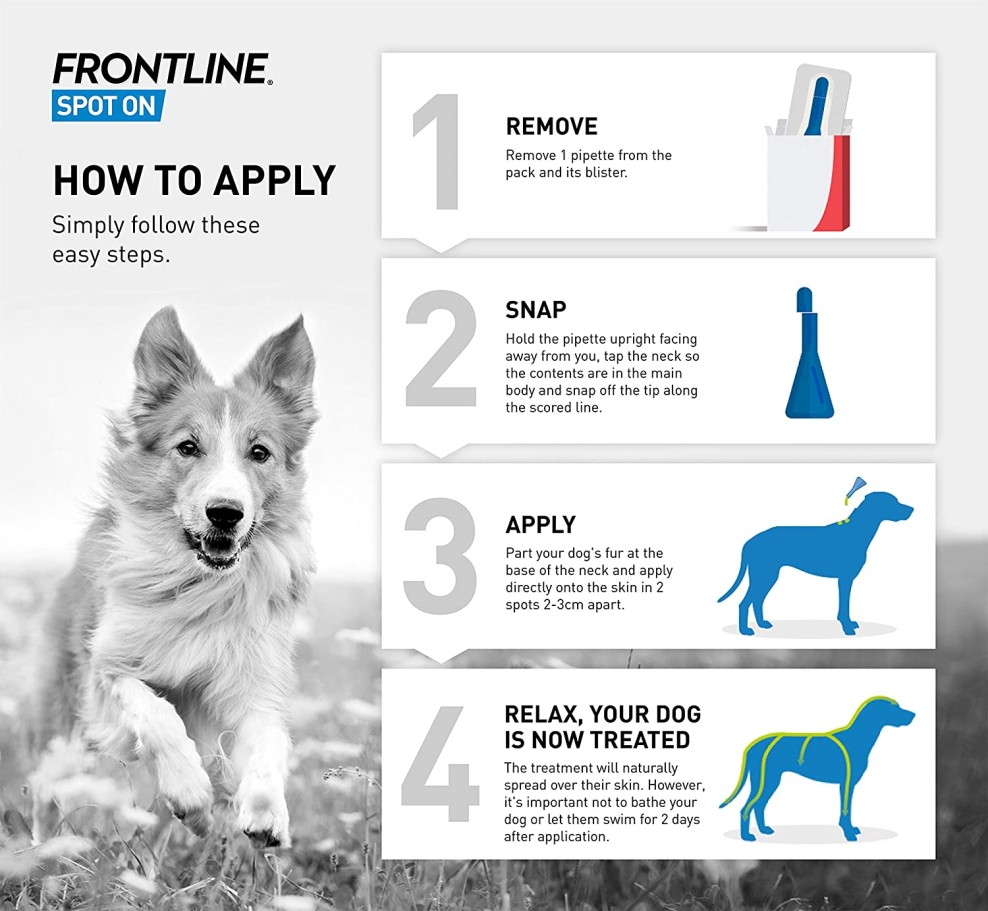 See The Difference
Here's a quick comparison to help you choose the right product for your pet.

Frequently Asked Questions
What is the difference between FRONTLINE Spot On and FRONTLINE Plus?
Both products kill fleas and ticks on your pet, however the advanced formula of FRONTLINE Plus also stops flea eggs from hatching and infesting your home.
Can I handle or stroke my pet after applying FRONTLINE Spot On / FRONTLINE Plus?
You can handle, stroke and cuddle your pet as usual as soon as the application site is dry. In the meantime treated animals should not be handled and children should not be allowed to play or sleep with them.
Do Fleas and Ticks need to bite my pet to be killed by FRONTLINE Plus / FRONTLINE Spot On?
No, FRONTLINE Plus and FRONTLINE Spot On act topically which means that fleas and ticks are killed through contact with your pet's skin and coat so they do not need to bite to be killed.

FRONTLINE® Spot On contains fipronil. UK: AVM-GSL. Further information available in the SPC or from Boehringer Ingelheim Animal Health UK Ltd, RG12 8YS, UK. Use Medicines Responsibly. FRONTLINE® is a registered trademarks of the Boehringer Ingelheim Group. ©2019 Boehringer Ingelheim Animal Health UK Ltd. All rights reserved. Date of preparation: Aug 2019. PE2841