FRONTLINE Plus Flea and Tick Treatment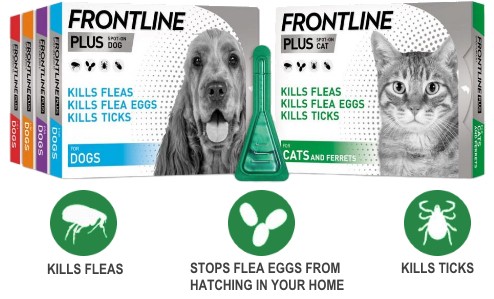 FRONTLINE Plus is the most advanced formula within the FRONTLINE range of flea and tick treatments. It not only kills fleas, but also stops their eggs from hatching and infesting your home.
• Kills fleas on your pet within 24 hours
• Stops flea eggs hatching in your home
• Kills ticks within 48 hours, helping reduce the risk
of tick-borne diseases
• Kills lice


Displaying 1 to 5 (of 5 products)
FRONTLINE Plus
FRONTLINE Plus Spot On Solution is a topical application for the treatment of flea infestations, alone or in association with ticks and/or biting lice. Containing the active ingredient Fipronil, the treatment works to kill 98-100% of fleas within 24 hours and will persist against new flea infestations for up to 4 weeks. Ticks and Biting Lice will be killed within 48 hours and will remain effective for up to 2 weeks (4 weeks in Ferrets).
FRONTLINE Plus also contains the important addition of (S)-methoprene which acts as an insect growth inhibitor. (S)-methoprene works to prevent the multiplication of fleas by inhibiting the development of the immature stages of growth (eggs, larvae and pupae) for up to 6 weeks of application.
Learn More About FRONTLINE Plus
How To Apply FRONTLINE Plus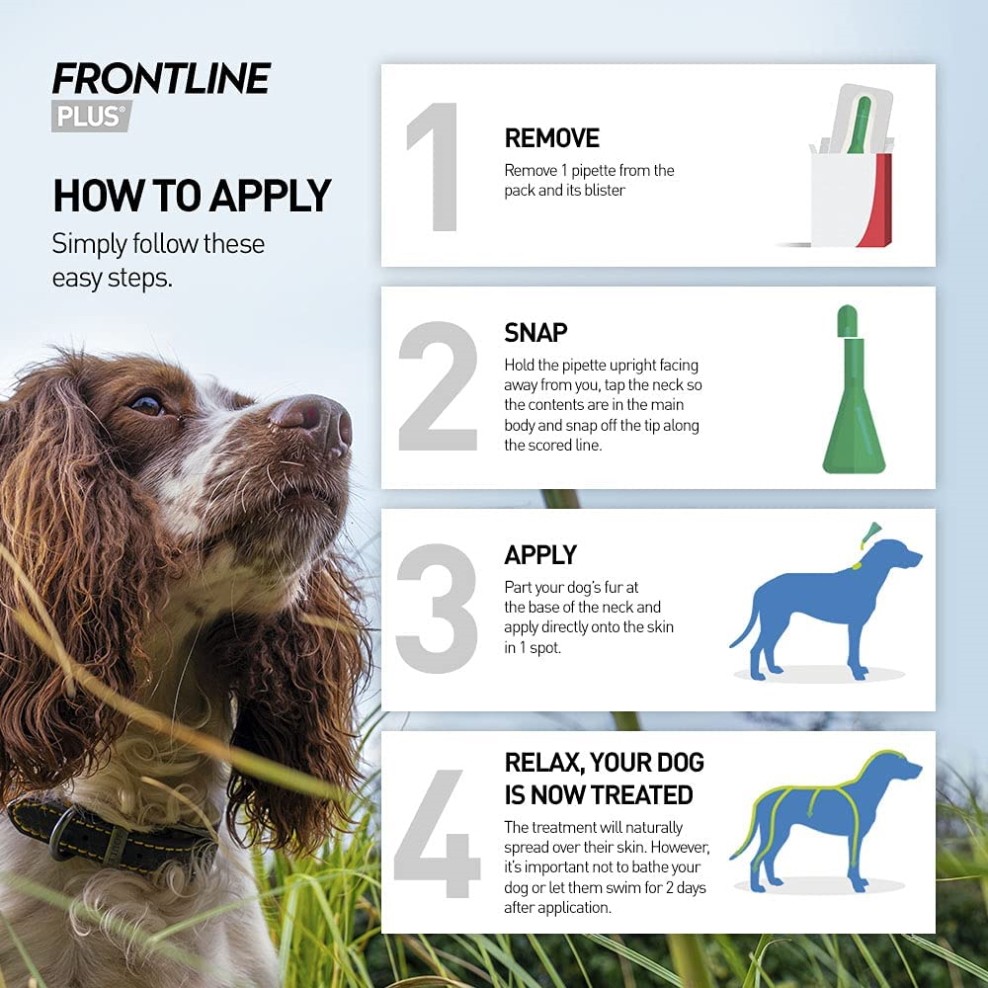 See The Difference
Here's a quick comparison to help you choose the right product for your pet.

Frequently Asked Questions
What is the difference between FRONTLINE Plus and FRONTLINE Spot On?
Both products kill fleas and ticks on your pet, however the advanced formula of FRONTLINE Plus also stops flea eggs from hatching and infesting your home.
Why is it important to tackle flea eggs as well as fleas?
Even if you have treated your pet for fleas, some fleas may still have time to lay eggs before dying. These eggs can develop into new fleas in as little as 14 days, therefore it is important to tackle flea eggs too. Most flea products only kill fleas on your pet. FRONTLINE Plus not only kills fleas and ticks on your pet, but also prevents flea eggs from hatching and infesting the home.
Can I handle or stroke my pet after applying FRONTLINE Plus / FRONTLINE Spot On?
You can handle, stroke and cuddle your pet as usual as soon as the application site is dry. In the meantime treated animals should not be handled and children should not be allowed to play or sleep with them.

FRONTLINE® Plus contains fipronil and (S)-methoprene. UK: NFA-VPS. Further information available in the SPC or from Boehringer Ingelheim Animal Health UK Ltd, RG12 8YS, UK. Use Medicines Responsibly. FRONTLINE® is a registered trademarks of the Boehringer Ingelheim Group. ©2019 Boehringer Ingelheim Animal Health UK Ltd. All rights reserved. Date of preparation: Aug 2019. PE2841