Free delivery on orders with £10 worth of VetUK own brand products
XeDen 200mg Tablets for Dogs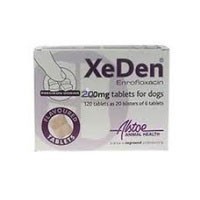 Description
XeDen 200mg Tablets for Dogs is a potent broad spectrum fluoroquinolone antimicrobial.
It is used for the treatment of severe infections that have not responded to other antimicrobials or might be expected to respond poorly.
The tablet can be easily split into equal halves or quarters for easy administration.
Dosage and Administration:
10 days in cases of lower urinary tract infections 15 days in cases of upper tract urinary...
Reviews:
There are currently no product reviews.
NOTE: Reviews require prior approval before they will be displayed