Free delivery on orders with £10 worth of VetUK own brand products
Cortavance Spray 76ml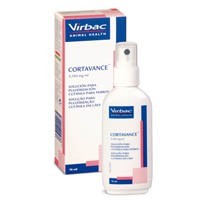 Description
For symptomatic treatment of inflammatory and pruritic dermatoses in dogs.
Legal Category:
POM-V | Cortavance Spray

Reviews:
Displaying 1 to 2 (of 2 reviews)
1
Ann Abbott
I thought my newly acquired rescue dog had a food allergy but it appears to be an allergy to wild grasses, and this instantly calms his feet when he has been in a rural environment. I do not need to apply it a second time after the walk, so although small, a bottle lasts quite a long time. It is much cheaper through Vet Uk than through my vet, even allowing for the £14 I had to pay for a 6-month prescription (which was given to cover 4 bottles).
Brian Van-miles
My yorkie has a condition called PYODERMA,a skin complaint which requires regular use of CORTAVANCE by VIRBAC.I have been with this vet for over twenty five years and have never questioned the costs of their treatment or medical supplies.I have been charged £33.00 for this product and its use is lifelong.do you think it is time for trading standards to talk to the vets concerned or is this standard over charge by all of them. I cannot believe that they can charge such a high price, unfortunately I did not see Vet.UK price until my dog was into its third bottle of Cortavance.25 years of loyalty and still being ripped off. sick. In future I will check VET.UK before buying anything from my vet or better still change my vet. Thanks for the opportunity to write this.
Displaying 1 to 2 (of 2 reviews)
1