Free delivery on orders with £10 worth of VetUK own brand products
UlcerGold Oral Paste for Horses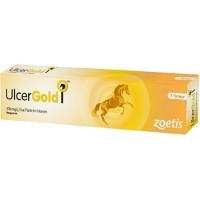 Description
UlcerGold Oral Paste for Horses is for the treatment of gastric ulcers and the prevention of their recurrence in horses.
UlcerGold contains 370mg/g Omeprazole and the excipient yellow iron oxide (E172), 2mg/g.
Omeprazole is effective in horses of various breeds and under different management conditions; foals as young as four weeks of age and weighing over 70kg; and breeding stallions.
For oral administration only.
Legal...
Reviews:
There are currently no product reviews.
NOTE: Reviews require prior approval before they will be displayed