Free delivery on orders with £10 worth of VetUK own brand products
Metacam for Dogs Oral Suspension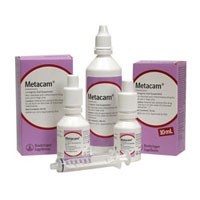 Description
Metacam for Dogs oral suspension for dogs contains 1.5 mg meloxicam and 1.5 mg sodium benzoate per ml.

Metacam for dog is a pleasantly flavoured liquid and can be added to food where most dogs take it quite happily. A special syringe is provided to help measure out the correct dose.

Metacam for dogs is a non-steroidal anti-inflammatory or 'NSAID' drug and is prescribed to reduce pain and inflammation, most commonly...
Reviews:
Displaying 1 to 15 (of 15 reviews)
1
Jody Pilkington
Rufus has been on pain relief for years for his arthritis. He is insured and I can claim the money back but as he is 11yrs old I have to pay 20% of the bill. The vets charge £80 for 180ml of Metacam and I can get it from VetUK for £20 and free postage if I buy 2 bottles. It's a no brainer as I can still claim 80% off Petplan. Shame about the £12 the vet charges for the prescription but still works out cheaper. VetUK are quick to acknowledge my emailed copy of the prescription and the package arrives the next day. Thanks. x
Brian Goode
5 seems to keep my dogs arthritis at bay without any side affects
Cay Mayor
This is so much cheaper to buy online than from your vet. I have a rabbit who has been on metacam long term. If you can get your vet to give you a prescription for the biggest bottle it's really good because you save loads. Also the little bottles run out really quickly and it's hard to tell how much is left.
Jacqueline Hunter
Even taking in to account the prescription fee and vet consultation fee required, this is far cheaper purchasing through VetUk. Very simple process too.
John Lloyd
Product is easy to administer using syringe - dog is 18 years old and has improved mobility in legs. Less stiffness & no side effects.
Lesley Bache
Excellent product for my dog's condition in conjunction with other painkillers
Jenny Callaghan
A daily dose helps my dog with her painful neck. A couple of months ago I was concerned that if the pain couldn't be managed that would be it for her as she's too old for surgery. But for the time being, she's fine with her pain well controlled. Easy to order and quick, reliable delivery.
Steve Welsh
My 10 year old golden retriever suffered so badly from arthritis he struggled to get to his feet. We tried numerous remedies from the vet that didn't ease his pain at all until finally we tried glucosamine injections (every 6 months) and Metacam on a daily basis. It has worked wonders and he now skips around like a puppy. Can't recommend enough - but also ask your vet about the injections.
Thelma Galyer
our border collie Max is 14 years old, bless him and still going strong.Has metcam once a day, no problem in him taking it just putting it on his food, also along with other medication....through VetUk exactly same as Vets , thank you VetUk
Wendy Biggin
My 7yr old Doberman is like a puppy now after starting metacam this year cost £275.00 at vets in march to be told nothing could be done for her hip , Sold me a prescription for metacam and she,s great .
Catherine Hawkins
My 10 year old yorkie has syringomylia the terrible disease that cavaliers are more prone to and Metacam has given her a new lease of life, she runs around like a 2 year old.
Carol Swift
Very good product, my dog has been taking it for many years and wouldn't still be with us without it. Also thanks to Vet UK for a brilliant services and prices. I am saving £30 every six weeks.
Sue Roberts
My 13 year old border collie with hip dysplasia has been on this for 6 years without any side effects and is still able to walk without limping, he did have a change of tablets to Rimadyl which was not successful - he now takes it together with ease flex and is so much better.
Louise Courtier
Our mini schnauzer suffered pain with hind leg and hip problems for 2 years, luckily a new vet suggested we try this. The difference in her after a few days of taking it were amazing.... she was like a playful puppy again.
Julie Bailey
I own an elderly GSD who has hip dysplasia and CDRM. After a visit of my local vet, she advised me to try this medication. I am pleased that it has made such a difference for my dog's quality of life and would definitely recommend it as a means of pain control.
Displaying 1 to 15 (of 15 reviews)
1