Free delivery on orders with £10 worth of VetUK own brand products
Eukanuba Veterinary Diet Canine Renal 12kg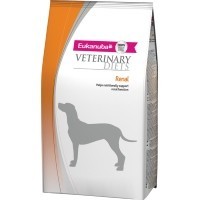 Description
Eukanuba Veterinary Diet Canine Renal is a specifically formulated daily feed to help and support dogs suffering from kidney disease.
Made with a special fibre blend that helps to excrete waste products from the blood this renal supporting feed also contains a moderate level of animal based proteins that help to preserve muscle mass.
To be fed under veterinary supervision, this food provides your dog with all the nutritional requirements...
Reviews:
There are currently no product reviews.
NOTE: Reviews require prior approval before they will be displayed