Free delivery on orders with £10 worth of VetUK own brand products
Eukanuba Dog Food Large Breed (Lamb & Rice)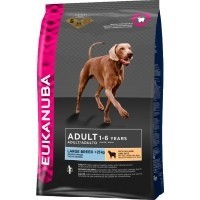 From: £11.50
Please Choose
2.5kg
Was: £13.52
Save: 15%
Now: £11.50
12Kg
Was: £36.68
Save: 15%
Now: £31.18
Options:
Description
Eukanuba Dog Food Large Breed (Lamb & Rice) is a complete balanced diet suitable even for sensitive dogs.
The high quality ingredients that go into making Eukanuba Lamb and Rice adult dog food ensure that the food is incredibly tasty and utterly irresistible!
Product characteristics:
Promotes healthy teeth and gums by reducing tartar build up and removing plaque Promotes and thick and silky coat and healthy skin Supports a healthy...
Reviews:
There are currently no product reviews.
NOTE: Reviews require prior approval before they will be displayed