Free delivery on orders with £10 worth of VetUK own brand products
Domosedan Gel 3ml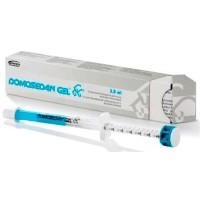 Description
Domosedan Gel is for the sedation of horses to facilitate restraint for non-invasive veterinary procedures (e.g. passage of naso-gastric tube, radiography, rasping teeth) and minor husbandry procedures (e.g. clipping, shoeing).
Domosedan Gel contains 7.6mg/ml detomidine hydrochloride (equivalent to 6.4mg/ml detomidine) and comes with an easy to use syringe that delivers the product in 0.25ml increments.
Legal Category:
POM-V | Domosedan...
Reviews:
There are currently no product reviews.
NOTE: Reviews require prior approval before they will be displayed