Free delivery on orders with £10 worth of VetUK own brand products
Burgess Wellbeing Sensitive for Cats 1.5Kg (Chicken)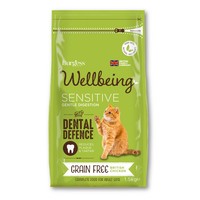 Description
Burgess Wellbeing Sensitive for Cats has been formulated as a complete diet that will meet your cat's nutritional needs whilst being gentle on their digestive system.
Made from the finest quality ingredients, the food is free from artificial colours and flavours, and combines a single source of British protein with healthy pulses, and essential nutrients to support your cat's health and wellbeing.
Burgess Wellbeing Sensitive...
Reviews:
There are currently no product reviews.
NOTE: Reviews require prior approval before they will be displayed