Aurizon Ear Drops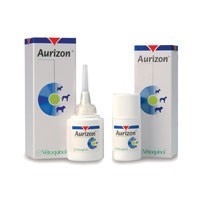 Description
Aurizon ear drops contains marbofloxacin 3mg, Clotrimazole 10mg and Dexamethasone (as acetate) 0.9mg as active substances.

Aurizon is indicated for use in dogs for the treatment of otitis externa of both bacterial and fungal origin ? respectively due to bacteria sensitive to marbofloxacin, and fungi sensitive to clotrimazole.

Aurizon ear drops are available in 10 ml or 20 ml bottles.
Legal Category:
Pom-V | Aurizon...
Reviews:
There are currently no product reviews.
NOTE: Reviews require prior approval before they will be displayed